Plant based skincare.
After a never ending year of pandemic driven stress and continuous screen time, my skin has taken a heavy toll – from a period of psoriasis in the winter months to increased forehead lines and an all over dull skin facade. Did you know: Anxiety is known to trigger production of the stress hormone cortisol, which changes your skin pores and increases skin oil production. And with skin conditions like psoriasis, can make skin cells multiply 10 times faster than normal?
I went about stripping back my whole skincare routine, ensuring every ingredient made sense and was verifiable from source. Enter Izanei: a brand new plant based skincare range (for skin and hair) which has launched with just three curated skin oils and one hair (scalp) serum. You can choose from a very well defined small range: Nourish & Glow Face Oil, Richly Renew Face Oil and Blossom Face Oil and Soothe & Grow Scalp Hair Serum.
Like many good ideas, Mahtab, the London based but of Iranian descent founder, had her 'eureka' moment due to personal reasons: a long time anaemia sufferer, which exacerbated her sensitive skin and dry brittle hair, her passion for skincare turned into long time research about 'natural' ingredients and formulations, 'plants are so powerful used the right way.' After 10 years of thorough research, trialling plant based ingredients and other new features (did you know pomegranate, for instance, very rarely found in beauty is a favourite product in Iran?) and vegetable oils like sandalwood, which she found has a great benefit to the skin, on everyone from friends to family, lockdown provided the perfect time and space to launch the Izanei product line.
Loosely based on the women members of her family: Nourish & Glow gives that plump, glow, Mahtab always wanted for her tired skin, Richly Renew is based on her mother's mature, dry skin and Blossom Face Oil is aimed at her sister suffering scarring and spots from her exam period and is about healing skin and alleviating redness.
Expect to find very precise formulations, 'It all comes down to chemistry and about knowing what percentage is enough.  For instance, the maximum amount you need of black seed in formulation is 10% and putting 11 or 12% is not going to add any further benefits.'
All handmade and small batch production, expect sumptuous plant based ingredients – prickly pear, broccoli, pomegranate – whilst the oils are textural, seep into the skin and require very minimal usage due to the fact they are not saturated with water but have a water like texture due to the rare ingredient, Squalane. Squalane used in Izanei is derived from olive oil (not sharks) has the same structure as skin's natural sebum and helps keep it soft, plump and moisturised. (the hair serum has no water at all just orange blossom and aloe vera).
And moreover all extracting of Izanei ingredients is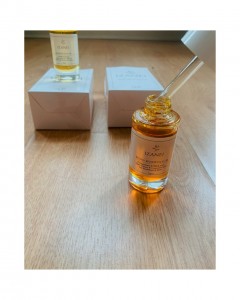 done cold pressed so no damage is done to the fruit of the oil being processed.
*I got no breakouts using the oils over a short period of time. I look forward to seeing what niche, curated products they come out with next.